Create a Project
In Coscine data is organized within projects. This means that you always have to create a project first, to which you can then assign further employees and resources in a second step. You can recreate the tree-like structure of a large project by creating subprojects.
Creating a project
To create a new project, navigate to the Coscine home page (via the Coscine logo or home icon). Here you have the possibility to create a new project via the "Add project" button (see figure below).
Project Configuration
After pressing the button you will be redirected to the following page (see figure below, please click on the figure to enlarge).
(Mandatory) parameters in the project configuration
Fields marked with an asterisk (*) are mandatory fields that are necessary for creating a project. Without entries in these fields, the "Submit" button cannot be selected. Here is a brief overview of the fields and their meaning:
| Property | Description |
| --- | --- |
| Project name* | Name of the project |
| Display name* | Short name of the project (max. 25 characters) |
| Project Description* | Short yet informative description of the project |
| Principal Investigators* (PIs) | Project investigator |
| Project Start* | Start date of the project |
| Project End* | (Expected) end date of the project |
| Discipline* | Scientific discipline according to the DFG. Multiple selection possible |
| Participating Organizations* | Organizations participating in the project - the available organizations are based on the international ROR IDs and are regularly updated by Coscine. The most common organizations (mainly universities) are offered in the list. If your organization does not appear in the list, you can simply enter the name in the search box. |
| Project Keywords | Keywords to aid with project classification and search |
| Metadata-Visibility | If the visibility of the project and a resource are set to "public", your files will be listed in a Coscine-wide search for the appropriate metadata. However, the files are only visible to other Coscine users, not retrievable. Provides the ability for other users to contact you if they are interested in your data. |
| GrantID | Unique grant/identification Id of the project |
If no matching organization appears, the respective organization probably has not yet registered an ID with ROR. This can only be initiated by the organization itself.
Project Homepage
After specifying all the necessary options, the "Submit" button will take you to the homepage of your newly created project (see figure below).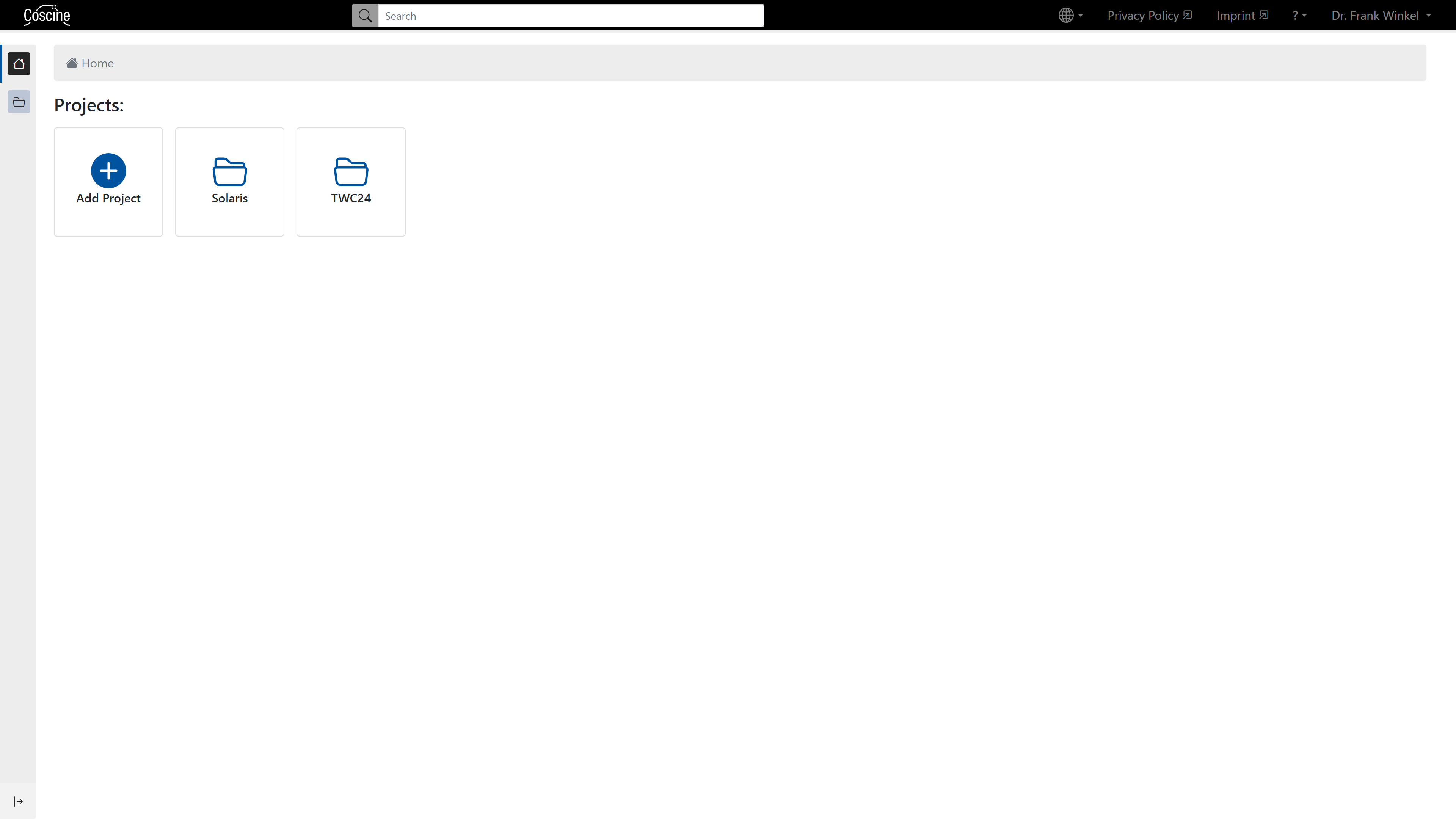 Edit project parameters
You can edit the project at any time, as well as manage members and quota (storage space in the project). To do this, click on "Settings" in the menu (see figure 3). Clicking on "Edit project" will take you back to the project input screen (see figure 2), where you can change your entries.